EAST SIKKIM
DIRECTORATE OF HANDICRAFT & HANDLOOM

Instituted with the aim of promoting and keeping alive the state's traditional arts and crafts, the directorate of handicrafts & handloom is a storehouse of hand-woven carpets with traditional motifs, blankets, shawls in Lepcha weaves and exquisitely-carved 'Choktse' or table and many other gift items.

Visiting hours: Monday to Saturday from 9.30 a.m. - 12.30 and 1 p.m. - 3 p.m. (Sales Emporium remains open throughout the year )
Phone
: 23126 , 22928 .

Flower exhibitions are organized round the year at the flower show venue near the white hall complex, Gangtok. orchid shows held during the spring tourist season is one of the most popular shows organized in the state.
WHITE HALL

The White Hall only has historical value and is situated on the Ridge. It is a two storeyed structure and has typical British architecture and was built in 1932. It is so called not because it is painted white but because it was built in memory of the first Political Officer of Sikkim, Claude White. There is an Officers' Club and a badminton court in the White Hall.
RIDGE GARDEN

The Ridge is a small stretch of plain and flat road above the town of Gangtok. It is just about fifteen minutes walk from the main market. The Ridge has the White Hall and the Chief Minister's official residence, known as the Mintogang, meaning "blossomed crowned hilltop" on one end and the beautifully designed Palace Gate with a Pagoda rooftop on the other end. A statue of Nehru, the late Prime Minister of India, adorns the roundabout above White Hall. Situated on the Ridge is also a resting shed using Tibetan architecture. The Ridge is lined with plants and trees which when bloom are a riot of colours. Flower shows which attract tourists from all over the world are held just below the Ridge.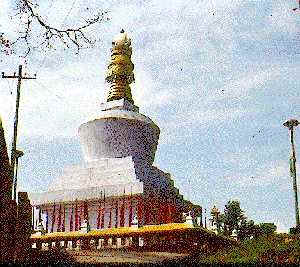 The Do-Drul Chorten or Stupa was built by the venerable Truslshi Rimpoche, head of the Nyingma order of Tibetan Buddhism, in 1945. Inside this Stupa, there are complete Mandala sets of Dorjee Phurba around this Chorten, which is one of the most important Stupas in Sikkim, are 108 Mani-lhakor(prayer wheels). These prayer wheels are turned by the devout Buddhist while chanting "hail to the jewel in the lotus ", to invoke Buddhisattva.
The most prestigious of its kind in India - this Buddhist Institute is a treasure trove of vast collection of rare Lepcha, Tibetan and Sanskrit manuscripts, statues and rare Thankas and has over 200 Buddhist icons. Today, it is the renowned worldwide center for study of Buddhist philosophy and religion.

Visiting hours: from 10 a.m. - 4 p.m. (opened throughout the week and govt. holidays)
Phone 22525.
SIKKIM TIME CORPORATION LTD. (SITCO)
Situated at a distance of 1.5 Kms from Gangtok town is one of the first industrial units set up in Sikkim. The Sikkim Time corporation Limited (SITCO), set up in 1977, has grown from strength to strength & now has 4 units which manufacture quality mechanical watches and top class watch crowns. In its 20 years of exestience, besides attaining the distinction of producing over 7.5 millon HMT mechanical watches, the unit is presently involed in marketing its own brand of fashionable digitial watches having Functionals versatality and Analog Watches with exquisite dials and various colour options These quality watches are reasonably priced & aavailable in all the leading outlets of the country. Located in the beautiful campus is a showroom in the factory premises from where the wacthes can be brought at ex-factory cost.
Visiting hours: 9 a.m. to 5 p.m. expcet Sundays and National Holidays.
Phone: 23089 / 22338.
RUMTEK DHARMA CHAKRA CENTRE

About 45 minutes drive from Gangtok, 24 kms. away, is the Rumtek Dharma Chakra Center, the seat of the Kagyu order, one of the 4 major Tibetan Buddhist sects. since the late 1960, traditional in design, it is almost replica of the original Kagyu headquarters in Tibet. The centre has a collection of some of the most unique religious art objects.

Phone: 22663.

Situated along the North Sikkim highway it is only 8 kms. from Gangtok. From this point you get a breathtaking view of Mount Khangchendzonga and Mt. Siniolchu, one of the most graceful peaks in the world.
It is situated on a ridge and is only 7 kms. from Gangtok. From this spot one gets birds view of sprawling Gangtok town down below while across the hills Mt. Khangchendzonga and Mt. Siniolchu loom over the horizon. A cafeteria serves you hot tea/coffee and snacks.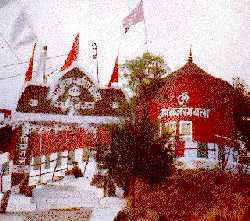 It is 11 kms. from Gangtok town, above Ganesh Tok with a Hindu temple where the devotees come and offer prayers.
FAMBONG LA WILDLIFE SANCTUARY

Fambong La Wildlife Sanctuary is located at a distance of 25 kms. from Gangtok and has an area of 51.76 sq.km. The main vegetation is oak , katus , kimbu , champ with thick bamboo forests and ferns. The Sanctuary is also home to a large number of wild orchids, rhododendrons etc. The richly forested area is known to be a home for various species of wild animals. The best season is October and April.
KYONGNOSLA ALPINE SANCTUARY.
Kyngnosla Alpine Sanctuary (Altitude: 3292-4116m.) is situated some 26 kms. from Gangtok on way to Tsongo Lake, this 3100 hectare sanctuary abounds in Alpine flowers like Poppies, Primulas and rhododendrons. Musk Deer, Serow, Himalayan black deer, Red panda, Lesser cats, Blood Peasant are some of the species found. The best period to visit Kyongnosla is July-August-Sept. The sanctuary is rich both in flora and fauna, Rare, endangered ground orchids and rhododendrons intersperesed among tall junipers and taller silver firs are among the important plants present.
Rhododendrons nevium the State Tree of Sikkim and Cypripedium tibeticum the ground slipper orchid on the verge of extinction, have been introduced here.Groung flora include different species of primulas, wild strawberries, irises, poppies and the rarely seen Panax pseudo-ginseng. Medicinal plants such as 'kutki' Picrorhiza scrophulariflora, 'jatamasi' Nardostachs graandiflora, 'Nilo bikh' Aconitun ferox, Podophyllum emodi and even the wild onion are occupied by the soil binding bamboo Arundinaria sp.
The area is snow covered often upto May when primulas pop up through the snow and rhododendrons come into bud. By June-July they are full bloom. Flowering succession by the many species continues right through to October when Polygonum sp. the last to flower, dries up. First snowfall is normally by December - January. Tranquil trekking trail begins from Knongnosla Village.
The routes are: Iris point- Tseten Tashi Cave - Rong Chu 1 km.
Helipad - Kheding and back
Helipad - Simulakha - Goral Rock - Tashipong - Rong Chu 6.5 km.
Rong chu - Namnang Lakha - Nakcho and back 20 km.
( Trekkers withpermit from Army can return from Nakcho via Tsongu Lake).
FIVE POINTS AND SEVEN POINTS TOUR
Directorate of Handicraft.
Enchey Monastery.
Tibetology.
Chorten.
Orchid Sanctuary.
Saramasa Garden.
Rumtek & Botanical Garden.
VIEW POINTS
Tashi view point.
Hanuman Tok.
Ganesh Tok.
Deer Park.
White Hall & Flower Show.

COPYRIGHT : SUVANKAR SANYAL, ALL RIGHTS RESERVED