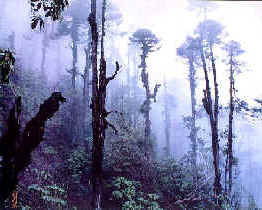 National Parks:
Wild Life Sanctuaries:

Unlike Sikkim, North Bengal has rich diversity of Flora & Fauna, the plains of North Bengal ( Siliguri, Jalpaiguri, Coochbehar, e.t.c., ) are surrounded by deep forests. Variety of Mammals, Reptiles, rare species of Trees are found in these forests. The forest in North Bengal is Tropical in nature and deep growth of tall Sal trees are common, Sal occupies nearly 80% of all vegetation in the tropical forest.
Some forest are famous for their their distinct wildlife, for example, Jaldapara Wildlife Sanctuary is famous for One Horned India Rhino, whereas Mahananda Wildlife Sanctuary is famous for Elephants.
Vegetation changes with altitude in North Bengal, the plains and foot hills are covered by Sal, as soon as the altitude increases vegetation changes. In the high altitude regions ferns, and wild grass are common. In the cool climate rare species of mammals like Red Panda, Snow Leopard, Gaur, Himalayan Black Bear are found. In Darjeeling Zoo, one can get a sight of Red Panda. Some rare Orchids, Rhododendrons known for their medicinal value are found. But due to lack of care and deforestation all these are in endangered species list, and with in few years they are definitely going to be extinct. With in the last 50 years North Bengal including Sub - Himalayan West Bengal has lost more than 45 % of its vegetation. This has contributed to a regular series of landslides in Darjeeling and Sikkim Himalayas.
MY MESSAGE
Deforestation is still going on vast forests of West Bengal, and the reason for this is not timber but illegal immigrant settlements form Bangladeshi People. The population of North Bengal was few thousand after gaining independence from the British but has increased considerably in the last 10 years and the estimated population in the plains of North Bengal is over 1 and 1/2 million. For this wildlife not only suffered, but the local people is suffering till now, high rate of unemployment is a common factor. This has bring a sort of revenge on the minds of the ethnic groups of North Bengal, (specially the hill areas), and they has also started a separatist movement in the hills and plains. The only one responsible for this is the government, if it had taken proper steps in proper time, the scenario of North Bengal and Darjeeling would have been very different. In North Bengal the government should look at the work of Sikkim's Government, who not only follows strict immigration rules, and deforestation rules. Due to this more and more visitors are attracted towards Sikkim. Darjeeling, and all other places in North Bengal is losing their importance day by day. We, the people should work hand in hand with the government to stop deforestation and promote Eco- Tourism in North Bengal, if we the Government and People can dedicate a very small fraction of life to North Bengal, then I am sure Darjeeling will soon gain it's lost glory.

BRIEF DESCRIPTION OF NATIONAL PARK'S & WILDLIFE SACTUARIES

JALDAPARA WILDLIFE SANCTUARY

Location
The Jaldapara Wildlfe Sanctuary with an area of 216.51 sq.km, is a mosaic of woods, grassland, swamps and streams with great diversity of fauna and flora. It is located in the eastern part of Jalpaiguri district with NH-31 dividing it in two.

Wildlife
The Jaldapara Sanctuary is home for the Great Indian One-Horned Rhinoceros. Herds of elephants can frequently be found using it as feeding grounds. Hog deer, spotted deer, barking deer and sambar are found, as are Gaur or Indian Bison. Tigers and leopards might also be seen moving stealthily through grass and bush, if one is lucky. The Sanctuary is home for some rare and endemic species like the hispid hare, hogbadger etc, also for wild boar and sloth bears. A rich and varied avifauna is found here-the Crested Eagle, Pallasís Fishing Eagle and shikra are common. So are Jungle fowl, peafowl, partridges and sometimes the Bengal Florican and lesser Pied Hornbill. Python, monitor lizards, krates, cobras, geckos and about 8 species of fresh water turtles enrich the reptilian diversity.

Anthropological & Cultural Heritage
This is the land where the primitive "Toto" tribe holds its last stand - refusing to be swamped by the main stream of civilisation. Toto have their home in "Totopara " - a village that lies to the north of the sanctuary. Their customs and culture have been the subject matter of great anthropological interest. This remote village has a small population of 950 .

Bania ruins The remains of an old fort and a big lake in Bania block, speak of the existence of an ancient settlement and culture. Locals believe that "Nala Raja" of the Epic lived here and the fort is called the "Nala Rajar Garh" .

How To Get There
The place is well-connected by National Highways and State Highways to important railway stations like New Jalpaiguri and Siliguri. The Delhi-Gauhati and Howrah-Gauhati routes also connect this area.. Flights to Bagdogra, which is approximately 140 km from Madarihat are available from Delhi and Calcutta.

Where To Stay
There are small lodges in Madarihat, just outside Jaldpara Wildlife Sanctuary, where one might stay. It is also possible to stay at the quaint and scenic forest rest house within the boundaries of the Sanctuary. Bookings for the forest rest house have to be made in advance at the Tourist Information Bureau, Govt. of West Bengal, 3/2 B.B.D.Bagh (E), Calcutta 700 001, India.




SINGHALILA NATIONAL PARK

Singhalila National Park is the highest located National Park(between 2400 m to 3650m A.S.L.) in West Bengal, and is situated in the extreme north western boundary of Darjeeling District. The park is not only famous for its wildlife but also offers one of the best trekking routes in the eastern Himalayas - from Maneybhanjang near Darjeeling, via Tonglu to Sandakphu (35Km) and Phalut. The view of the Kanchendzonga range of peaks from Sandakphu is a breathtaking and unforgettable one. Viewed from Phalut, the Kanchedzonga looks close enough to touch. There is also a motorable road upto Sandakphu. Rail, road and air routes via New Jalpaiguri, Siliguri and Bagdogra, connect Darjeeling from Calcutta and Delhi.


MAHANANDA WILDLIFE SANCTUARY

The Mahananda Wildlife Sanctuary constitutes the forests of the lower catchment area of the Mahananda river, and covers an area of 159.86 sq.km. Situated at the western end of the elephant migration route, more than 150 elephants shelter here during the monsoon and winter seasons. Migratory water birds are common in winter. The other animals found are the rare mountain goat (Serow), some tigers and herds of Gaur, leopards, wild pig, varieties of deer and monkeys, jungle cats, porcupines, civets, monitor lizards and snakes. The Sanctuary offers some beautiful trekking routes from Sukna. Golaghat, Deorali and the Latpancher-Mana track are the favourites for trekking and bird watching. Sukna, about 7 km from Siliguri, is the main entry point, and has a Nature Interpretation Centre.


GORUMARA NATIONAL PARK

Gorumara National Park, is one of the recent introductions to the National Parks map of India. It is famous for being one of the last small pockets in Eastern India with a natural population of the Great Indian one horned Rhinoceros. The Indian Elephant and the Indian Bison are also found. The National Park is found in the localities of Lataguri, Chalsa and Nagrakata, beside National Highway 31 which connects Siliguri and Guwahati. Siliguri is well connected by air, with flights from Calcutta, Delhi and Guwahati.



BUXA FORT

Buxa Fort is located at an altitude of about 2600 ft A.S.L. at a two-hour trekking distance from Santrabari. The trek is a very pleasant one with some beautiful scenery en route.

Originally established as a cantonment by the British East India company in 1873, it was used by the British as a deportation camp for political prisoners during India's struggle for freedom. The area's general inaccessibility, as well as dense forests, made it ideal for this. Some illustrious freedom fighters who were imprisoned here were - Triloki Sen,, Arun Guha, Surendra Mohan Ghosh, Hemendra Ghosh, Anil Roy, Maj. Satya Gupta, Amalendu Dasgupta, Jagannath Das Gupta, Khitish Chandra Mullick, Bhupati Majumdar and many others. Post-independence, it lost its significance and until today remains rather neglected. In the sixties, Buxa Fort was used as a relief camp for Tibetan refugees. The Tibetan Buddhist monks who also sheltered here, attracted quite a few national and international tourists. During 1970-71, it was again used as a relief camp for Bangladeshi refugees for about six months.

The trekking route to the fort both from Mahakal and Santrabari, is set amidst breathtaking scenery and provides trekkers with an opportunity to sample nature in a form unspoilt by modern influences. Details regarding Buxa are available from the West Bengal Tourism Development Corporation, Calcutta.


Source:
* WBTDC
* Wildlife Wing, Directorate of Forests, Govt. of WB

COPYRIGHT : SUVANKAR SANYAL, ALL RIGHTS RESERVED