Kalimpong is a small hill station between Siliguri and Gangtok. The road is one of the most scenic routes in this part of the nation. The swift flowing Teesta river runs by the side of the road adding to the beauty of the scenery.
The town is 1250 m above sea level and offers execellent views of the Mt Kanchenjunga and the other Himalayan peaks. The popular view points are Durpin Dara and Deoro Hill.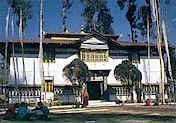 Kalimpong has several monasteries and also a Kali temple. The Tibetan Monastery and curio center and Dr Graham's home are important tour stops.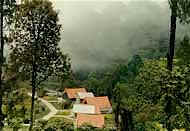 Lava (32kms), a small village is another picturesque place. Lava is also the base for trekking to the Neora National Park. Lolegaon is 25 kms from Lava and one can see the Singalila ranges from here.
Quickfacts:
Population: 40,000;
Language: Gorkha, Nepali, Hindi, Bengali, English.
Weather:
Summer:
Mar to Jun 15°C -25°C.
Monsoons:
Jul to Aug. Rainfall: Average Annual 2030 mm (80 inches)
Autumn & Winter:
Sep to Feb 7°C -15°C.
Links:
For more information about Kalimpong please refer to this page: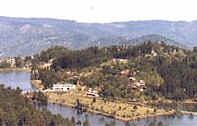 Mirik is being developed as a hill resort. It is 55 kms from Siliguri. The town is centered around the Sumendu Lake. Landscaped gardens, the tourism department cottages and boating facilities have made Mirik an attractive resort town. Mirik is 1767 m above sea level.
On the western bank of the lake is the Debisthan with its Singha Devi mandir.
Mirik has several view points like Ramitey Dara and Deosi Dara which offer spectacular views of the eastern Himalayan ranges. Mirik also has tea gardens, orange orchards and cardamom groves.
Quickinfo:
Altitude: 1767 msl
Climate: cool and temperate
Temperature:
Summer: max 29oC
Winter: max 13oC
Rainfall: 279.4 cm annually
Siliguri:
Siliguri is an important transportation hub in North Bengal. The main railway station is New Jalpaiguri which has connections to all parts of the country. The airport at Bagdogra has connections to Calcutta, Delhi and Guwahati. The main national highways of this region pass through Siliguri. Bus services to all the neighbouring places and states is available from Siliguri. Bus services to Bhutan are also there.
The surrounding areas of the city are beautiful. The Mahananda Wildlife Sanctuary is 18 kms from the city (Permits are required). The Coronation Bridge (Sevoke Bridge) is an important bridge of the north east.
There are a number of good hotels in the city.
KALIMPONG:
By Road: Kalimpong is approachable by roads from Siliguri (66kms), Darjeeling (51kms) and Gangtok (79 kms;Sikkim).
LODGING:
Kalimpong has a wide variety of hotels ranging from luxury to moderately priced.
MIRIK:
CONNECTIONS:
By Road: From Darjeeling () and Siliguri ().
LODGING:
WBTDC Cottages.
Siliguri:
Transportation hub of North Bengal and gateway to north east India. Rail and road connections to all parts of the nation.
Lodging: Hotels to suit every budget.
WBTDC Mainak.