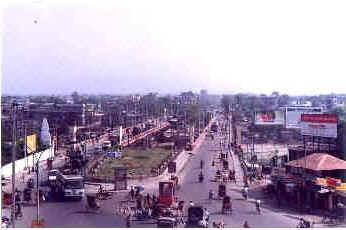 (TRAFFIC AT MAHANANDA BRIDGE)

(1) Bidhan Market & Hong Kong Market : A shopper's paradise. Located on the Hill Cart Road, this market offers you a wide variety of articles.

(2) Art Gallery : Various types of art exhibitions are being held at Ramkinkar Hall near Court more.

(3) Matigara : With a distance of 6 kms. away from Siliguri, this place is well-known for potter's village. Whenever you manage to reach, your artistic mind would snatch you to go for searching terra-cottas and other meticulous sorts.

(4) North Bengal Science Centre : North Bengal Science Centre, and unit of National Council of Science Museums (Min. of HRD, Govt. of India) is about 6 kms. from Siliguri town at Matigara on NH-31. Set up on a sprawling area of over 10 acres with its elegant building and Science Park, it is a major visitors attraction in the district. The centre has galleries on popular science, life science and a comprehensive exhibition on the Himalayas. If you want to go beyond the limits of our planet, the inflatable dome 'Taramandal' will satisfy your inquisitive mind by transporting you to the amazing world of twinkling vastness.

(5) Salugara Monastery : His Eminence Kalu Rinpoche constructed this one hundred feet stupa contains five types of relics and is on object of veneration to one who visit the sacred site. Distance 5 kms. from Siliguri.
(6) ISKCON MANDIR : Dedicated to Lord Krishna, it is one of the finest temple in North Bengal. Till now the temple is under construction. It will be completed on April 2002. The top of the dome is covered with gold sheet. The construction of the temple had cost more than $ 4500000. Devotees of Lord Krishna has donated for this noble cause. It is situated on Anchal, Ektiasal Road.

[HOME]
© Copyright (Suvankar Sanyal)
All rights reserved.