history back to darjeeling trekking transportation people places near darjeeling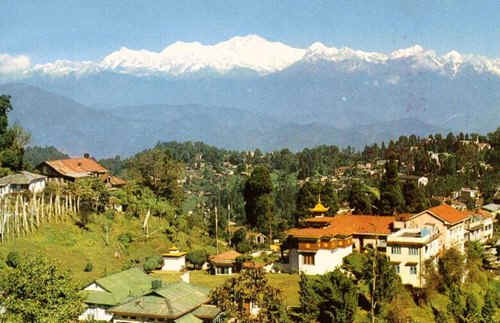 (CLICK ON THE PICTURE FOR MORE PICTURES OF DARJEELING)

TIGER HILL
Situated at an altitude of 2590 metres(8482 ft) and 13 kms from the town, this spot has earned international fame for the magnificent view of the sunrise over "Kanchenjunga" and the great Eastern Himalayan Mountains. Even Mount Everest, the world's highest peak, is visible from here.

BATASIA LOOP
About 5 kms from Darjeeling, this Railway Loop is a marvelous feat of engineering. It is fascinating to watch the Toy Train wind its way round the loop. The War Memorial constructed in the memory of brave sons of Darjeeling who died in different action since 1947, is worth a visit. A glorious view of snowy peak and town can be seen from this place. Entrance fee: Rs. 3/-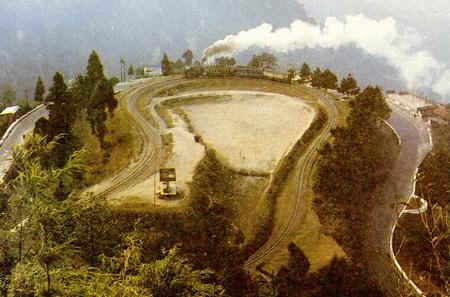 OBSEVATORY HILL
Apart from the magnificent view, it commands great religious importance is attached to the Observatory Hill by both Hindus and Buddhists who worship here by the hundreds.

MUSEUMS, PARKS, GARDENS & ART GALLERIES


HIMALAYAN MOUNTAINEERING INSTITUTE & PADMAJA NAIDU HIMALAYAN ZOOLOGICAL PARK:
Situated on Jawahar Parbat about 2 km from Chowrasta, this unique institution trains mountaineers. It has a museum containing an interesting collection of mountaineering equipment.
Adjacent to the Himalayan Mountaineering Institute, it is a high altitude wild life park and new home for Siberian Tiger, Himalayan Black Bear, Deer, Red Panda, Snow leopard and Birds.
Timings: 9 a.m. to 4.40 p.m. Closed on Thursdays.
Entrance Fee: Rs. 10/- per head for Himalayan Mountaineering Institute and Zoo.
The Snow Leopard breeding Centre was started in 1986 to breed Snow Leopards captive breeding project.
Entrance fee: Rs. 10/-
Closed on Thursdays.

TENZING ROCK AND GOMBU ROCK
Situated at Lebong Cart Road. Himalayan Mountaineering Institute conducts preliminary course on Rock climbing on these Rocks.

NATURAL HISTORY MUSEUM
Within walking distance from Chowrasta, this interesting museum contains comprehensive collection of the fauna of the region.
Opens from 10 a.m. to 4 p.m.
Closed on Thursdays.
Entrance fee: Re 5/-, Children Rs 2/-.

LLOYDS BOTANICAL GARDEN
A colorful garden situated just below the Market Motor Stand. It contains a representative collection of Himalayan plants, flowers, orchids etc. The green houses are well worth a visit.
Timing: 6 a.m. to 5 p.m.
Entrance fee: Free

THE SHRUBBERY
This beautiful garden is situated on the Jawahar Parbat behind Raj Bhawan. A magnificient view of Kanchenjunga Range and Singla Valley can be enjoyed from here.

STEP ASIDE
About 3 mins. walk from Chowrasta will bring the visitors to the place where the famous Indian patriot Deshbandhu Chittaranjan Das had passed away in 1925.

AVA ART GALLERY
About 2 kms. from town on the way to Ghoom. It house fine art and embroidery work of Mrs. Ava Devi.
Timing: 8 a.m. to 12 noon and 1 p.m. to 5 p.m.
Entrance fee: 50 paise.

HAPPY VALLEY TEA ESTATE
Of about seventy tea gardens in this hill region, this is one of the nearest, about 3 km. from the town. Here one can see the processing of the worlds famous Darjeeling Tea.
Timing: 8 a.m. to 12 noon and 1 p.m. to 4.30 p.m.
Closed on Sundays(afternoon) and Mondays(full day)

DARJEELING RANGEET VALLEY PASSENGER ROPEWAY
At North Point about 3 km. from the town. The first passenger ropeway in India. For reservation of ropeway seats please contact officer-in-charge, Darjeeling Rangeet Valley Ropeway Station, North Point, Darjeeling. Phone: 70231. Rate: Rs 55.50/- per head.
Regular share taxi service available from Market Motor Stand to the Ropeway Station. Taxi Fare: Rs 5/-

LEBONG RACE COURSE
About 8 km from the town, it is the smallest race course in the world. The complete lap is only 480 yds. long. It was laid out in 1885 as a parade ground.

GARG WORLD AMUSEMENT PARK
Situated at a distance of about 4 km. on Gandhi Road it is a new amusement park with a variety of attractions.
Entry fee: Rs 15/-

BARBOTEY ROCK GARDEN
Situated 10 kms. from town it is a very attractive picnic spot with natural water falls.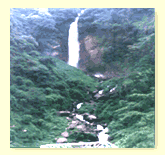 GANGAMAYA PARK
3 kms. from Rock Garden is a beautiful picnic spot and a boating complex. Boating is available @ Rs 20/- for 15 mins. per head.

HANDICRAFT'S

TIBETAN REFUGEE SELF HELP CENTRE:
Tibetan refugee self help centre was established on 1st October 1959 to rehabilitate displaced Tibetans who had followed His Holiness The Dalai Lama to India in early 1959. This centre produces excellent carpets, woolen goods, wood crafts, leather work etc. The Tibetan craftsman can be seen at work at the centre.
Closed on Sundays.

MANJUSHA, BENGAL EMPORIUM:
Prominent hill handicrafts, handloom, and silk products of West Bengal are displayed and sold here. The emporium is situated in Nehru Road.

HAYDEN HALL:
Woolen carpets, cotton shoulder bags, table mats, hand knitted pure wool sweaters and caps are available for sale at reasonable prices. The items are woven by local ladies.

GRAM SILPA:
Khadi and Village Industries Commission, Govt. of India, an ideal place to buy khadi handloom silk products.

EXCURSIONS, PICNIC SPOTS & SHORT TREKS


SENCHAL LAKE: A favourite picnic spot about 10 km. from the town. Senchal Lake provides water supply to Darjeeling town.

JOREPOKHRI: It is 22 kms. from Darjeeling, a beautiful picnic spot. Accommodation is available.
Rs 1500/- Suite per day
Rs 1000/- Double bedded room
Rs 100/- per head in dormitory. Lodging only.
Food available on extra payment.
For reservation contact the Deputy Director of Tourism, Tourism Deptt., DGHC, Silver Fir Building, Bhanu Sarani, Darjeeling. Phone: 54879,55351. Fax: 0354-54214


SINGLA: Altitude 224 meters or 800 ft.(approx). This attractive picnic spot near Rangeet river has been earmarked by the Department of Tourism, DGHC for a water sports complex.

MAJITAR: 21 kms. from Darjeeling by road(Jeepable), it is a magnificent picnic spot.

BIJANBARI: 38 kms. from Darjeeling by road(motorable). Situated at an altitude of 762 meters or 2500 feet. This beautiful picnic spot is near the Little Rangeet River.

MONASTERIES


YIGA-CHOLING BUDDHIST MONASTERY GHOOM: This monastery situated about 8 kms. from the town, enshrines an image of the Maitreyee Buddha(the coming Buddha). Foreigners are allowed to enter the Monestary.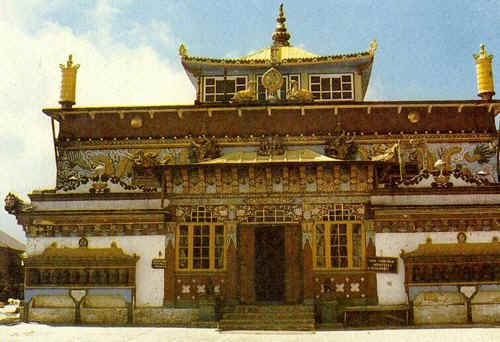 SAMTENCHOLING MONASTERY, GHOOM: Situated on Hill Cart Road this monastery is about 7 kms. from Darjeeling Town. This monastery belongs to Gelugpa, Yellow sect.

BHUTIA BUSTY MONASTERY: Originally built as branch of Phodong Monastery of Sikkim, it is situated at C.R. Das Road and is 15 mins walk from the Mall. It belongs to Nagmpa(Red Sect). For an avid photographer it is an ideal spot, as it offers an excellent view of the monastery with Kanchenjunga range as a backdrop.

DRUKPA KARGYUD MONASTERY: Popularly known as Dali Monastery. It is 5 kms. from the town. It belongs to Drukpa Kargyud School.

TASHI DARJEELING MONASTERY: It is also known as Tamang Buddhist Monastery. It is opened in 1926 and belong to N Yeing mapa Red Sect.

MAK DRONG MONASTERY: Popularly known as Aloobari Monastery. It is opened in the year 1914 and belongs to the Yolmo Sect. It is situated in Tenzing Norgay Road.

OGYEN KUNSANG CHOLONG MONASTERY: This monastery was built by Lama Kagyun Renpoche in the year 1959. It belongs to Nyingmapa order.

SAMDRUB DARGYE CHOLING MONASTERY: Popularly known as Sonada Monastery. It was founded by Kalu Rempoche in the year 1964. This monastery belongs to Kargrudpa Sect.

HIMALAYAN BUDDHIST SOCIETY:
Buddha Mandir is opened in 1960.

JAPANESE TEMPLE: The Nipponzan Myohoji Buddhist Temple, Charlimont, Darjeeling started in the year 1972. A peace Pagoda opened on 1st November, 1992, commands panoramic view of Darjeeling Kanchenjunga range.

TEMPLES


BARA THAKURBARI, Chowk Bazar

DHIRDHAM, near Railway Station

MAHAKAL TEMPLE, Observatory Hill

SANI MANDIR, Sonam Wangdi Road

SREE MANDIR, J.N. Mitra Road, Chandmari

DEVISTAN, Tiger Hill

MAHADEV DHAM, Jorepokhri

SREE SREE PANCH KANYA DHAM , P.B. Gurung Road, Darjelling

CHURCHES


St. Andrew Church under C.N.I. near Loreto College

St. Columba's Church under C.N.I. above the Railway Station

Church of the Immaculate Conception , Darjeeling Parish premises

Our Lady of Snows , Singmari

MOSQUE


Bara Masjid, Dr. Zakir Hussain Busty

Chota Masjid, Anjuman Islamia




TREKKING

Trekking in the Darjeeling Hills began almost a century ago. Infact, the first organized trekking route in India was established here along the Singalila range. The trek begins in Darjeeling and proceeds through Maneybhanyang, Tonglu, Sandakphu and ends in Phalut. The alluring natural beauty is replete with countless varieties of rhododendrons, magnolias, orchids and wild flowers. The dense forest, the verdant flower, the verdant meadows, the savage mass of Mt. Everest, the everlasting beauty of Kanchenjunga, the rugged Lhotse or the mysterious Makalu- all in one sweeping glance, present an experience that can never be equaled.

There are Trekker Hut under the management of DGHC, Tourism Department all along the route to Sandakphu. For further information contact Tourist Bureau, Darjeeling.


ADVENTURE SPOTS: Exciting White Water Rafting can be done at Teesta. For details contact:
Deputy Director of Tourism,
Darjeeling Gorkha Hill Council,
Silver Fir Building, Bhanu Sarani,
Darjeeling. Phone No: 54879/55351
Fax: 0354-54214

Manager,
Wayside Inn, Chittrey, Teesta, Phone No. 9262-68261

Conducted Tours:
DGHC Tourism, Darjeeling organizes the following conducted tours during tourist seasons.


(1) TIGER HILL TOUR 4 a.m. to 7.30 a.m. Rs 50/- per head. Places covered- Tiger Hill, Samten Choling Monastery, Batasia Loop.

(2) LOCAL SIGHTSEEING TOUR( 7 points) 9.30 a.m. to 12.30 p.m./ 2 p.m. to 5 p.m. Rs 50/- per head. Places Covered- HMI, Himalayan Zoological Park, Tibetan Refugee Self-Help Centre, Darjeeling Rangeet Valley Passenger Ropeway(to see from road side only), Tenzing and Gombu Rock, Happy Valley Tea Estate(to see from road only), Lebong Race Course.

(3) LOCAL SIGHTSEEING TOUR(5 points) 9.30 a.m. to 12.30 p.m./ 2 p.m. to 5 p.m. Rs 50/- per head. Places Covered- Japanese Temple, Lal Kothi(DGHC Secretariat), Ava Art Gallery, Dhirdham Temple, Natural History Museum.

(4) BARBOTEY ROCK GARDEN & GANGAMAYA PARK: 9.30 a.m. to 12.30 p.m. Rs 100/- per head.

(5) MIRIK TOUR, 8.30 a.m. to 5.30 p.m. Rs 100/- per head. Places Covered- Mirik Lake, Pashupati Nagar(Nepal Border), Jorepokhri.


LAST WORD TO OUR VISITORS: Some Dos and Don'ts for the tourists.

(1) The trees, the shrubs, the ferns and the greenery are important part of the mountain biological community. In addition providing shelter and food to all forms of flora and fauna. Help to protect these invaluable resources.

(2) Avoid all destruction, defacement or carving of growing trees and shrubs and all natural vegetation.

(3) Respect the solitude by avoiding boisterous conduct and loud noise which are disruptive to others.

(4) Do not litter the trails. Carry out or burn all the garbage. Pick up litter as you encounter it- this will help to clean environment.

(5) Use a cat-hole if there are no established latrines.

(6) No sweets to the village children please. We do not want the children to see trekkers as their source of sweets. Dental cares are not available in these villages.

(7) Try to keep trekking groups as small as possible.

(8) Take nothing but pictures, leave nothing but your footprints.

COPYRIGHT: SUVANKAR SANYAL, ALL RIGHTS RESERVED