FACT FILE
Altitude

1,250-1,600 metres for the town area. Countryside averages 1,600 metres. Maximum Rachela 3,152 metres.

Population

Approximate 40,000. Main ethnic groups are Nepali, Bhutia and Lepcha.

Climate

Summer: Mar to Jun 15°C -25°C. Sunny days, mild weather, flora in bloom.
Monsoons: Jul to Aug. Drifting clouds, rain and lush green.
Autumn & Winter: Sep to Feb 7°C -15°C. Blue skies, clear views of snow peaks, sunshine.

Rainfall

Average Annual 2030 mm (80 inches)

Season

All year round

Clothing

Tropical in Summer with a light sweater and rainwear. Woolens in Autumn and Winter. Parka jacket for Jan-Feb.

Language

English, Nepali, Hindi and Tibetan.
HISTORY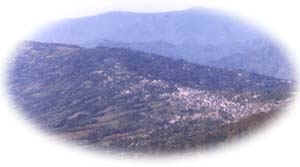 Once the headquarters of a Bhutanese Governor, the word 'kalim' means King's Minister and 'Pong' - the stronghold of the King's minister. It is also called 'Kalibong' or the black spur by the hill people. 'Kalipong' in local dialect stands for 'Kaulim' which is a fibrous plant which grows in abundance in this region. The meaning that has found the most favour is the Lepcha meaning of the name - 'ridge where we play'. It is said that these local tribesmen used to organise field sports while not engaged in agricultural pursuits - hence its name. Somewhat secluded and tucked away in the corner under the big Darjeeling umbrella, Kalimpong offers a quiet and relaxed holiday against the backdrop of Kanchenjunga.
Kalimpong was originally part of Bhutan. In 1865, after the Anglo-Bhutan War, it was merged with Darjeeling, and became a sub-division of Darjeeling in 1916, and developed as a hill station. It flourished as a wool trading centre with Tibet till 1950, when the Chinese took over Tibet. It continues to be part of Darjeeling District, and is now an attractive tourist and educational centre.