Locaton: Only 3 kms. from Siliguri Town, easily reachable by two wheeler, private taxi. Situated on Eastern Bypass road, it's an ideal place to come out of the grasp and pollution of Siliguri City. It seems we are on a heaven, because of the natural beauty of Baikunthpur Forest region.

Menu of Mouthwatering Dishes
INDIAN DISHES:
Rice - Dal(Pulses) - Sabji
Rs 12.00
Chapatti / Pcs
Rs 2.00
Veg Pakora Per Plate
Rs 18.00
Chicken Pakora
Rs 40.00
Onion Pakora
Rs 15.00
Paneer Pakora
Rs 30.00
Egg Moglai
Rs 12.00
Paneer Butter Masala
Rs 40.00
Paneer Chilly
Rs 45.00
Shahi Paneer
Rs 40.00
Mixed Vegetable
Rs 35.00
Veg Keema Curry
Rs 40.00
Alu Dam
Rs 20.00
Alu Zeera
Rs 20.00
Chicken Biryani
Rs 45.00
Mutton Biryani
Rs 50.00

Chinese Dishes:

Veg Chowmin
Rs 20.00
Egg Chowmin
Rs 25.00
Chicken Chowmin
Rs 40.00
Motton Chowmin
Rs 45.00
Momo (Veg)
Rs 10.00
Momo (Non- Veg)
Rs 15.00
Thuppa
Rs 15.00

Beverages:

Cola
Rs. 12.00
Pepsi
Rs. 12.00
Fanta
Coca
Rs. 12.00
Mirinda
Rs. 12.00
Limca
Rs. 12.00
Teem
Rs. 12.00
7' UP
Rs. 12.00
Thums Up
Rs. 12.00
Tea
Rs 8.00
Tea (Special)
Rs 12.00
Cofee
Rs 10.00
Milk Shake
Rs 20.00
Lassi
Rs 15.00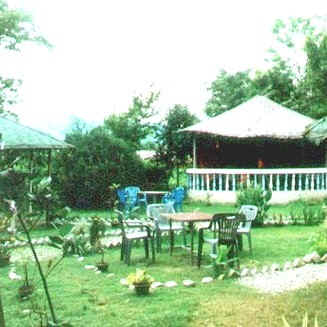 Note: Special dishes are prepared in special occasions, some of the listed items may not be available all the time. Prices given on the menu might change time to time and may differ from the listed one.

Note form Hotel Anwesha's management: Please allow us sufficient time to provide you better food and servive.

Places of Interest in this region:

As mentioned earlier Baikunthpur forest is only minutes walk. Inside the forest one can visit Baba Loknath's Meditation Center, which seems to be isolated from the entire world, the Meditation Center is surrounded by deep forest of Sal trees. Here one can feel time has just stopped.

For Bird Watchers and trekkers Baikunthpur Forest has variety of flora and fauna:

List of Birds found in Baikunthpur Forest:
(1) ROSY MINIVET
(2) YELLOWTHROATED MINIVET
(3) PEA FOWL
(4) LESSER COCUL
(5) GREATER ROCKET-TAILED DRONGO
(6) KALEEN PHEASANT
(7) BLOSSOMHEADED PERAKEET
(9) INDIAN CUCKOO
(10) WHITEBREASTED KING FISHER
(11) FUFOUSHECKED HORNBILL
(12) COMMON HILL PASTRIDGO
(13) COMMON SAND PIPER
(14) PINTAILED GREEN PIGEON
(15) MAROONBACKED IMPEREAL PIGEON
(16) BLACKCRESTED BAZA
(17) GREAT PIED HORNBILL
(18) RUFUS TURTLE DAVE
(19) GREEN SAND PIPER
(20) RED JUNGLE FOWL
(21) SPARROW HAWK
(22) BLACK KING VALTURE
(23) HIMALAYAN BLACK BEAR
(24) HIMALAYAN FALCONEL
(25) IBISBILL



LIST OF ANIMALS FOUND IN Baikunthpur Forest:
(1) COMMON LANGUR
(2) BARKING DEER
(3) LARGE INDIAN CIVET
(4) CRABEATING MONGOOSE
(5) HOG DEER
(6) HIMALAYAN BLACK BEAR
(7) GAUR
(8) RHESUS MACAQUE
(9) SCROW
(10) INDIAN GAINT SQUIRREL
(11) SLOTH BEER
(12) INDIAN PANGOLIN
(13) WILD BOAR
(14) SAMBER
(15) ELEPHANT
(16) COMMON OTTER
(17) SPOTTED DEER
(18) GORAL
(19) CRESTLESS HIMALAYAN PORCAPINE
(20) TIGER
(21) LEOPARD
(22) JUNGLE CAT
(23) LEOPARD CAT
(24) PYTHON

Note: Some animals and birds might not be found because they might have migrated to Mahananda WildLife Sanctuary or might have lost their habitat in the forest.

Copyright © 2001 [nbtourism.tripod.com, for Hotel Anwesha & Restaurant]. All rights reserved.
Revised: September 24, 2001. The website is created by CYBERDYNE DATAMATICS.
IF YOU WANT TO CONTACT HOTEL ANWESHA AND RESTAURANT:
Phone: 9832068437
E- Mail: hotel_anwesha@rediffmail.com