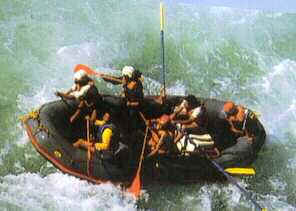 RAFTING IN TEESTA

THE PERFECT DESTINATION FOR VACATIONERS IN QUEST OF ENCHANTMENT, TRANQUILLITY OR ADVENTURE. A JEWEL EMBEDDED IN SNOW CLAD MOUNTAINS, SIKKIM IS A PRIMEVAL LAND THAT IS UNLIKE ANYWHERE ELSE . WHERE ONE DREAMY DAY BLENDS INTO THE NEXT. A LAND SO RICH IN CULTURE, TRADITION AND STEEPED IN RELIGION .
ADVENTURE BOUND !
YOU CAN WANDER UP LUSH GREEN MOUNTAIN TRAILS, IN THE VERY FOOTSTEPS OF THOSE EARLY TRAVELLERS . MARVEL AT THE STUPAS, MONASTERIES AND TEMPLES. ACQUAINT YOURSELF WITH A CULTURE THAT IS AT ONCE BIZARRE AND FASCINATING. WITH ITS ENDLESS INTRIGUING RITUALS AND FESTIVALS AND FESTIVITIES. SIKKIM OFFERS YOU A HOLIDAY THAT IS MORE THAN A DREAM - A VOYAGE OF ADVENTURE AND DISCOVERY.


DISCOVER SIKKIM

THE MAIN AND ENTHUSIASTIC ATTRACTIONS OF SIKKIM ARE:

MOUNTAINEERING
TREKKING
RIVER RAFTING
YAK SAFARI
MOUNTAIN BIKING
HANG GLIDING


MOUNTAINEERING IN SIKKIM
The first European to explore the Kanchendzonga area was Douglas W. Fresfield who reached its abse in 1899 from the Green Lake Basin area. A German expedition led by Paul Bauer made the first attempt to reach the summit in 1929 followed by another attempt in 1931 and reached an altitude of 26,000 ft. In 1955 Charles Evans conquered Kanchendzonga a few feet below the summit from the Nepal side. In 1977 an expedition led by Major Prem Chand reached a few feet below the summit. In 1987 an Assam Rifles expedition attempted the peak. In 1991 an Indo Japanese expedition led by Hukam Singh and Yoshio Ogata conquered the peak.

The Kabru was first climbed in 1935 by a British C. R. Cooke. The Pyramid Peak was first conquered in 1949 by a Swiss R. Dittert. A British A. M. Kallas, climbed the Paunhri in 1911. The summit of Siniolchu was first reached by a German in 1936. It was later again climbed by the famous Sikkimese Everester Sonam Gyatso. Pandim was climbed in 1993 by a team from the Sonam Gyatso Mountaineering Institute. Rathong was conquered by an Indian expedition in 1964.

SUGGESTED TREK ITINERARY

The following iteneraries have been drawn up with Yuksum as base. You can also draw up your own detailed trek itenerary with the help of Sikkim Tourism, adventure division, Gangtok or any recognized travel agent in Sikkim . Trekkers hut along trek routes are at Pemayangtse, Khechopalri, Yuksum, Tsokha, Dzongri, Thangshing, Zemathang, Chaurigang, Tashiding, Varsey, Yangang, Rabongla, Sang & Sikip.

MONASTIC TREK

March - May / Oct - Dec
Pemayangtse - Sangacholing - Khecheopalri - Dubdi - Sinon - Tashiding - Ralang .

RHODODENDRON TREK
March - May
Naya bazar - Hilley / Soreng - Varsey - Dentam - Pemayangtse .

KHANGCHENDZONGA

Mid March - mid June / Oct - Dec .
Yuksum - Bakhim - Tsokha - Dzongri - Thanghing / Bikbari - Zemathang / Chaurigang - Goecha la / Rathong glacier and back .

CORONATION TREK OCT - DEC
Rumtek - Sang - Yangang - Rabongla - Tashiding - Yuksum .


River rafting enthusiasts have two rivers the Teesta and Rangit gushing through paradisic country. The Teesta experience takes you rafting from Makha down to Sirwani and Sirwani to Rangpo. The Rangit expedition is from Sikip to Nayabazar to Melli. Beginners as well as experienced adventurers can seek the assistance of the Department of Tourism and travel agents for arranging river rafting trips .

Teesta Experience
Makha - Sirwani - Bardang - Rongpo
Rangeet Experience
Sikip - Jorethang - Majitar - Melli
Kayaking
Kayaking is undertaken on the Teesta and is arranged for special groups. Some experience in kayaking is required. Kayaks are available with Sikkim Tourism.


A safari with a difference
Yak Safari is organized from Dzongri onwards by Sikkim tourism or organized Sikkim travel agencies on prior booking. An unforgettable experience.


Mountain Biking is another adventure that has been recently introduced in Sikkim. Most of the roads in Sikkim are negotiable by mountainbikes. This sport is definitely poised to become popular in Sikkim in the near future. This sport is being promoted in most parts of North Sikkim & West Sikkim . For further details please contact Sikkim Tourism .

The department is shortly introducing hang gliding in North Sikkim and Jorethang in West Sikkim. for further details please contact Sikkim Tourism.


COPYRIGHT : SUVANKAR SANYAL, ALL RIGHTS RESERVED
DATA SOURCE : Govt. of Sikkim